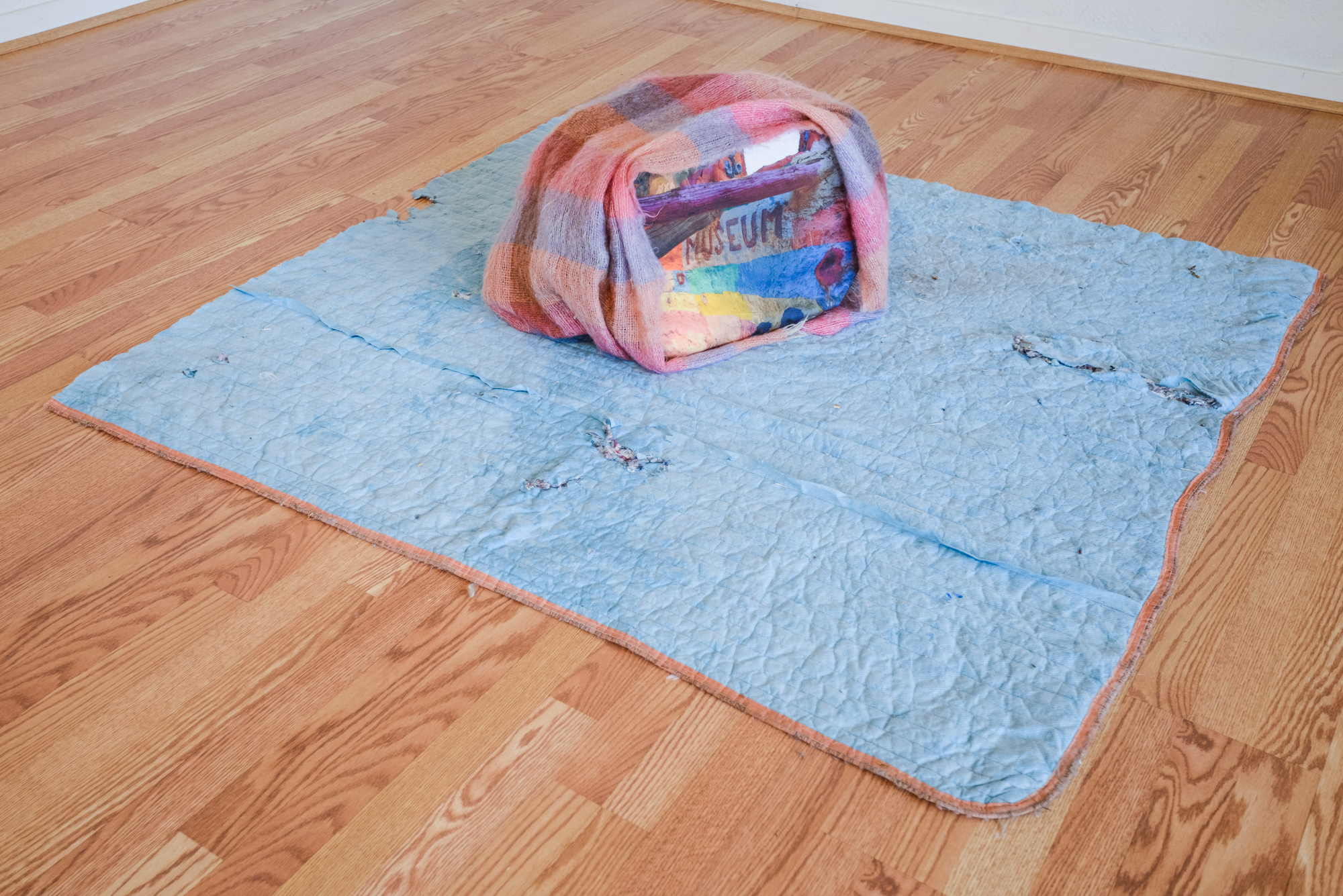 Works by Audrey Hope and Jess Willa Wheaton
March 21-May 10, 2015
Soft Slice Corral is a two woman show of new sculptures by Audrey Hope and new collages by Jess Willa Wheaton. The physical perimeters of Hope's sculptures and Wheaton's collages corral dextrous recombinations within their respective artworks. Disparate found photographs, illustrations, and textiles are tenderly sliced and newly constellated, to enfold shifting boundaries within unified objects.
Wheaton supplants the incongruencies between found images with intuitively discovered resonances. Diverse two dimensional materials are culled from sources both found and sought. Sources range from vintage to contemporary: her aunt's stained college sketchbook cover, a pixelated print out of a crude clip art scroll, a bedraggled print of a painting found lying on the ground in Frankfurt, and magazine advertisements for travel. For Soft Slice Corral, Wheaton has assembled landscapes that invoke spaces and experiences beyond the artworks' edge. In this way, the threshold of each 'place' marks an arena for material transformation. Through finessed placement in each collage, these divergent original materials merge, allowing uncommon associations and complex meanings to circulate.
For Hope, lumpy, disturbing, rock-like forms invoke found objects. Built from plaster, heavy fabrics, and digitally printed canvas over wood and wire armatures, these 'rocks' avoid easy categorization, turning the gallery into a landscape for the sensory negotiation of nameless textural things. This ephemera constitutes the body of artifacts collected during a year of research trips to the homes of so-called "Outsider" artists, a journey supported by a Museum of Fine Arts, Boston Travel Fellowship. Hope undertook this research trip to reflexively engage with modes of art production in this venerated and denigrated vernacular, and to immerse herself in the process and materials through which "Outsider" artists conjure lived experience through texture and artifacts sedimented with regional histories.
Many of the creators she visited incorporated a museum as a repository for artworks and mementos brought by visitors. In the case of Salvation Mountain, near the Salton Sea in southern California, the museum is a 30ft adobe and paint-coated dome of hay bales supported by telephone poles and tree branches. Within it, photographs point to a world outside the artist's environment, as do — perhaps most significantly — materials gifted to the artist by visitors. These gifts also reveal visitors' deep engagement with the place, one beyond tourism. In her new series of talismanic hollow plaster boulders, Hope incorporates photographs of parts of these sites to reference the mutability of the photographic surface and the intangibility of lived experience. Photographic prints point to spaces and experiences outside of the artwork that one might attempt to bring back from a journey: tokens of travel, collected rocks.
Audrey Hope, born in Santa Cruz, CA 1986, is a first year MFA student at the University of California, San Diego. She has attended the Skowhegan School of Painting and Sculpture and the School of the Museum of Fine Arts, Boston.
Jess Willa Wheaton, born in Sebastopol, CA in 1984, lives and works in New York. She received her BFA from the California College of the Arts, and recently completed her MFA at Hunter College.