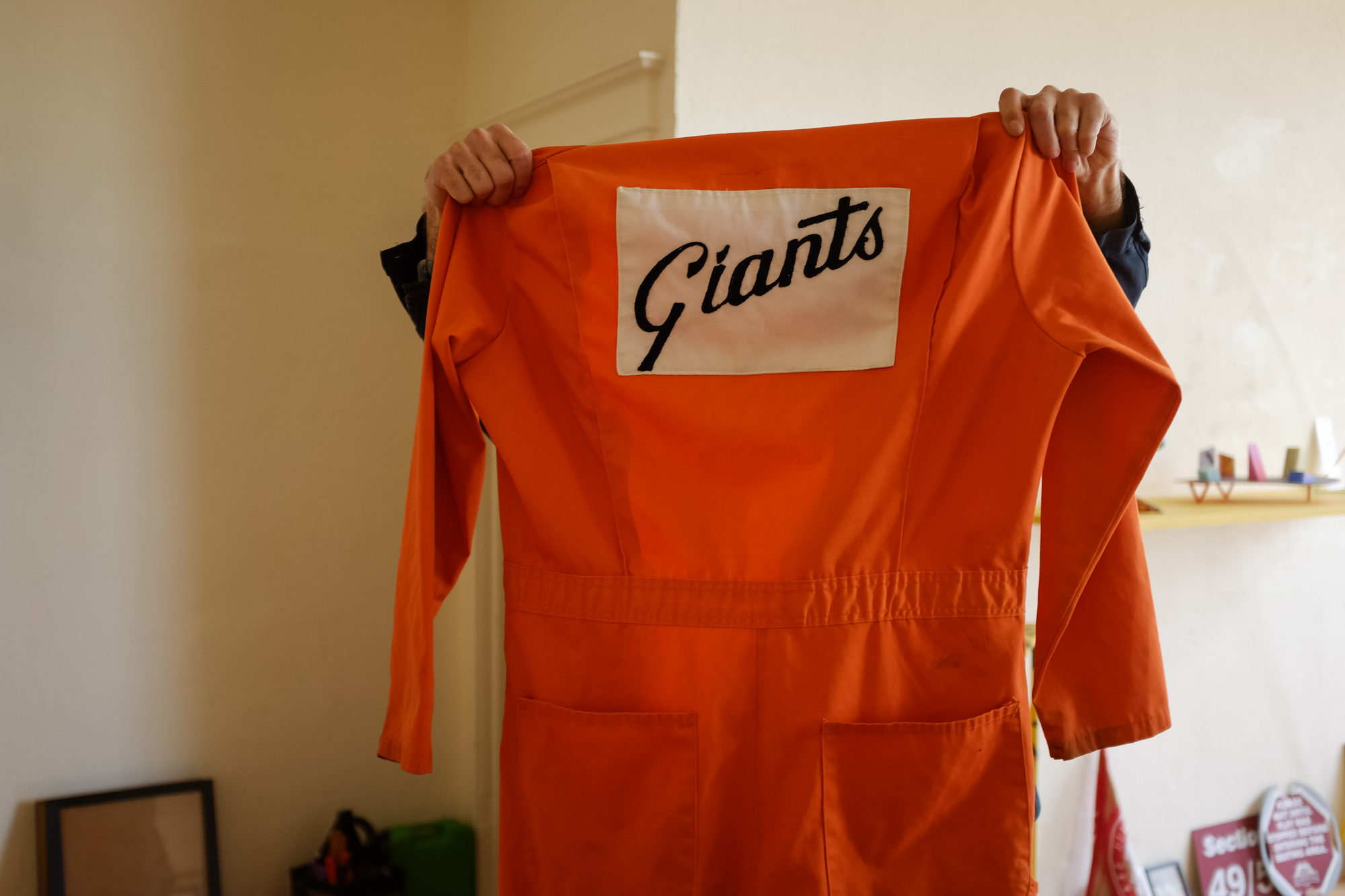 Most of the items you see are from my personal collection, which was handed down from my grandfather to my father and now myself.
My grandfather George Kerwin was the chief engineer at Candlestick and my father Robert Kerwin was a grounds crew member. My mother Maena Kerwin worked in concessions and I myself worked there once helping to set up the final event at Candelstick. The Paul McCartney concert "Last Pick at the Stick."
Here's a little info on some of the more personal items:
The Jerry Martin bat (top) has a cork in it, which you can see at the top of the barrel. My grandfather, per Jerry's request, placed the cork inside. Despite the advantage Jerry only hit 4 homers in the strike shortened 1984 season. Jerry Martin was the first active major leaguer to serve prison time. He did 3 months for cocaine charges. My father told me stories of how the SFPD would lock players inside the grounds crew utility closet so they could get coked up before and during games.
The Duane Kuiper game bat (bottom) could have actually used the cork more as he only hit one homerun in his entire career. It is 100% guaranteed that no long balls were hit with this bat.
The Milt May practice catchers mitt, spray painted red for an easy pitching target, was given to my father for helping modify Milt's belt.
The Lot K Sign was a gift to my grandfather from the organization as he retired.
The grounds crew uniform was my fathers and has come in handy on many Halloweens.
The photo of the bird nest was given to my grandfather from the lighting maintenance crew. There were many animals that called Candlestick home, including my grandfather's dog Shadow who was a stray and was taken home one stormy day after weeks of shadowing my grandpa around the Stick.
My late friend Will Cornyn took the photo of the Kirk Rueter's #42. Will was hands down the most hardcore Giants fan i have ever known (which as a San Francisco native is saying a lot.) In 1997 Major league baseball retired #42 (in honor of Jackie Robinson) for all teams thus prompting Will to retire 'Woody's' number on the Jamestown overpass in spray paint. The next season during spring training Will met Kirk "Woody" Rueter and told him he was responsible for the act. Woody laughed, told him he loved it and loved seeing it as he drove to home games. Woody then called over his teammates pointing to Will and said "this is the guy…" The picture next to the retired number is Will in the same location years later.
The "Tell it Goodbye" and the "Croix de Candlestick" paintings are works by North Beach native Charlie Ertola and are the only original art featured for tonight's event. Charlie is a very talented sign painter and i am incredibly grateful that he contributed such amazing works.
I would like to thank Charlie Villyard for allowing me to hold this event at his space and Mark Marquez for contributing his Battle of the Bay poster which not only survived the Loma Prieta but also a house fire! Special thanks to Jon Garrett for the Paul McCartney gig. I dedicate the show to my grandfather George Kerwin and my dear friend Will Cornyn.
– Steve Kerwin