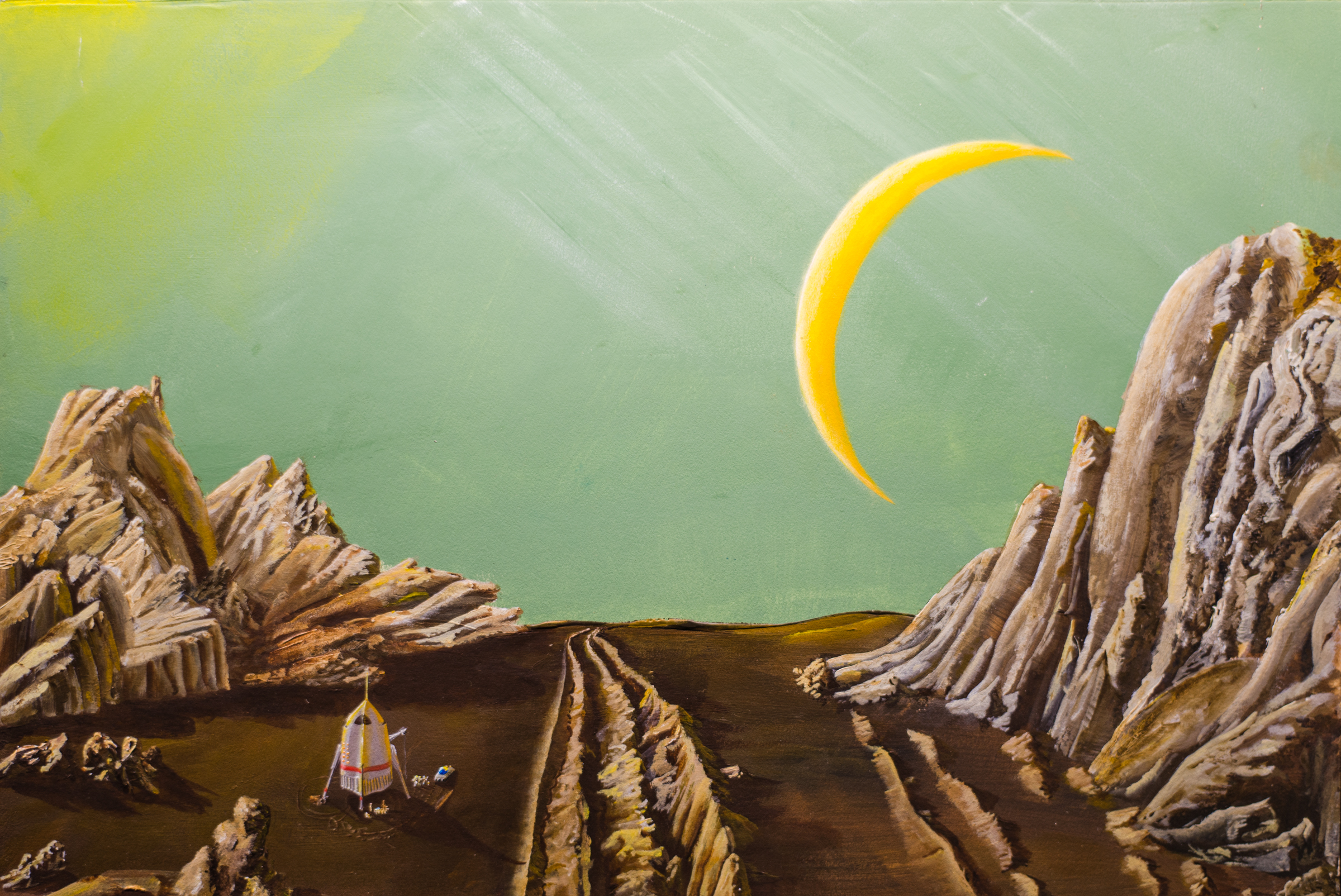 Planetoid Nomad: The Extremely Eccentric Orbit of M Curr
Friday June 17th, 2016
On Friday June 17th join us for a one night only event / exhibition. Andy Vogt & Sarah Smith will present the found paintings of M. Curr in the hushed settings of the downstairs speakeasy. There will be vintage sci fi sounds and readings by Sarah Hotchkiss from the up and coming Sci Fi Sundays Vol 5 as well as a cash bar. This event is presented in conjunction with Liz Walsh's exhibition The Crystal Cockpit.
/////////////////////////////////////////////\\\
Vogt/Smith Presents:
Planetoid Nomad: The Extremely Eccentric Orbit of M Curr
Found at the Alemany Flea Market in 2005, this 7-piece suite of fantastically surreal, beautifully rendered paintings by mystery artist, "M Curr," surprise and confound with vibrant color, meticulous detail and narrative perplexities. What is going on in these paintings? We can only guess. Completed in the 70's or 80's (?), the paintings depict scenes that could be settings for novels, films, hopeful book cover illustrations or simply dreamy visions of personal space travel. Its Sci-Fi fantasy painting at its best: uniquely puzzling, other-worldly environments that boggle the mind and grin with nerdy determination. Who is the artist? What drugs were involved? These are unanswered questions perhaps best contemplated in the darkness of space… or as we present them for this special show at Goodnight Projects: in a dark basement speakeasy, adrift on planes of black velvet.
/////////////////////////////////////////////\\\
Sarah Hotchkiss presents:
Readings from Sci-Fi Sundays
Reflect on recent contributions to the sci-fi cannon between refresher screenings of the promotional trailers that somehow convinced us movies like Jupiter Ascending might be worth watching. Reading from Sci-Fi Sundays Vol. 4 and the forthcoming Sci-Fi Sundays Vol. 5, Hotchkiss tries to pinpoint what the future actually holds for us, at least according to Hollywood. Possible talking points include: time travel, robots, love, aliens and dinosaurs.