Press
---
Saturday July 7, 2012
San Francisco Chronicle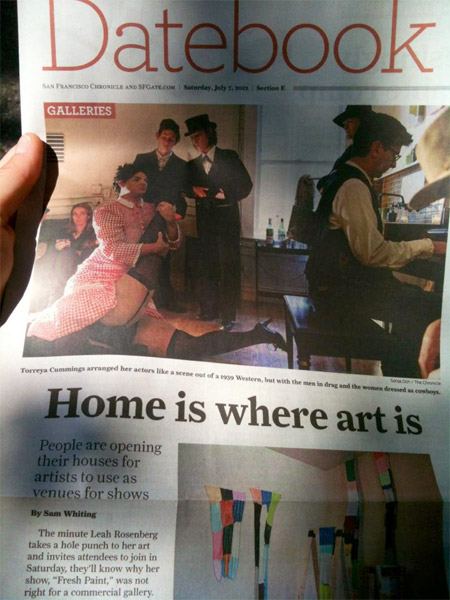 The minute Leah Rosenberg takes a hole punch to her art and invites attendees to join in Saturday, they'll know why her show, "Fresh Paint," was not right for a commercial gallery.
No gallery owner wants to see the product for sale reduced to round flakes on the floor. But Charles and Heather Villyard, owners of Truesilver Gallery, will be right there punching away. They aren't too worried about overhead because the gallery is in their home, in Noe Valley.
Despite the climb to get there, residential parking and no regular hours, Villyard estimates that 1,500 visitors have been to Truesilver in the three years since the opening show. They do four to six shows a year, and charge a 30 percent commission, as opposed to 50-50 at a commercial gallery. They've sold four paintings from "Fresh Paint," and if a 30 percent cut seems high, it isn't.
"Historically we've ended up giving all proceeds to the artist," says Villyard, "Exhibition space is pretty hard to come by in San Francisco, and seeing art in a home sparks budding collectors' enthusiasm because they see it in a space they can relate to."
June 9, 2012
Roll Call
Leah Rosenberg, Heather Villyard and Francesca Pastine are interviewed by DJ Margaret Tedesco.
January 9, 2012
Bold Italic feature article on San Francisco home galleries.