Past Events
Sunday July 19th 2 – 6pm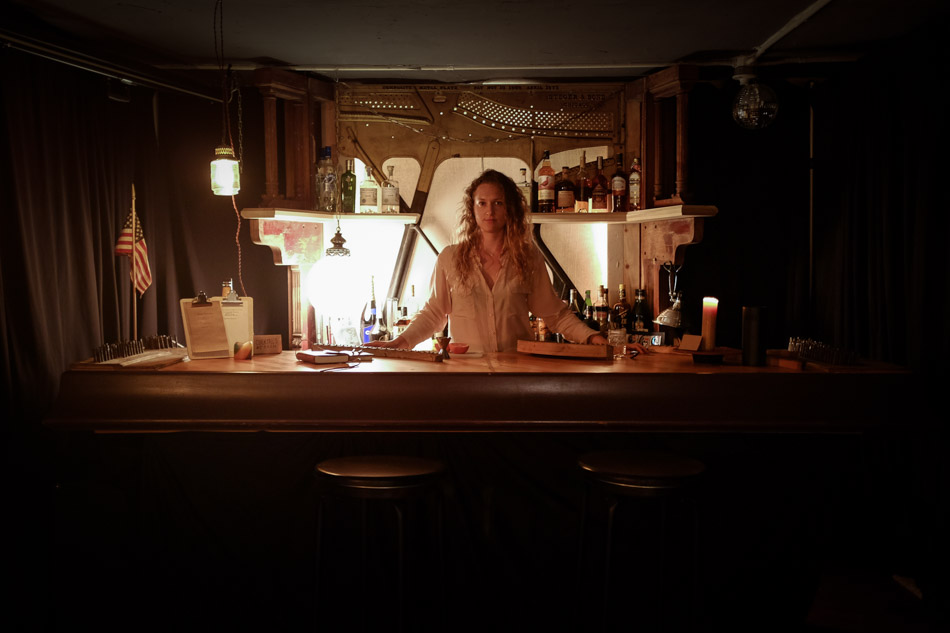 Please join us this Sunday for afternoon cocktails, conversation and the closing reception
of Gabrielle Teschner's Pianoforte. 2-6pm.
Saturday July 18th 2 – 10pm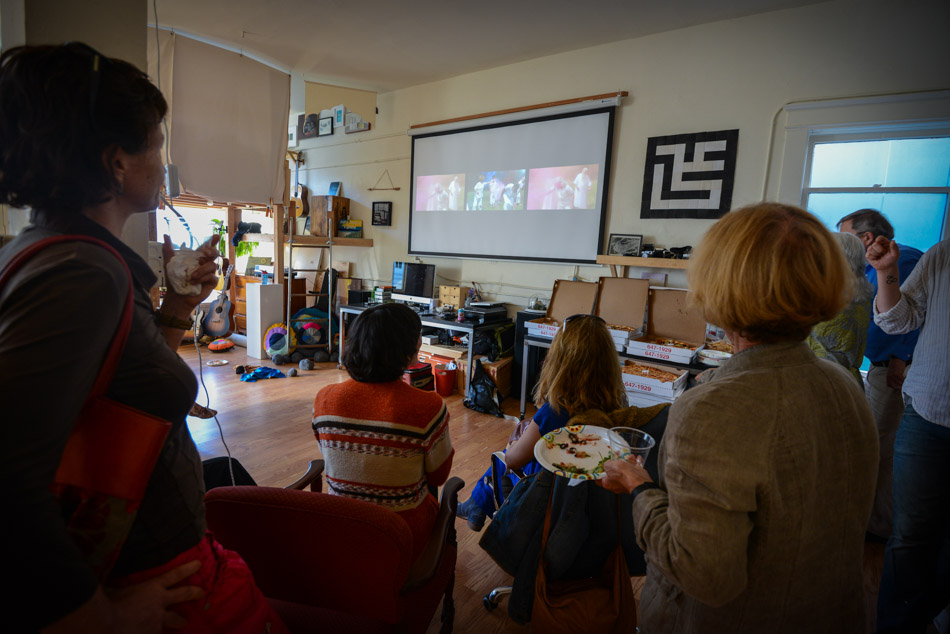 Wrap Party for Desiree Holman's SOPHONT. 2-6pm.
---
Saturday March 14th at 6pm
---
Saturday March 14th at 6pm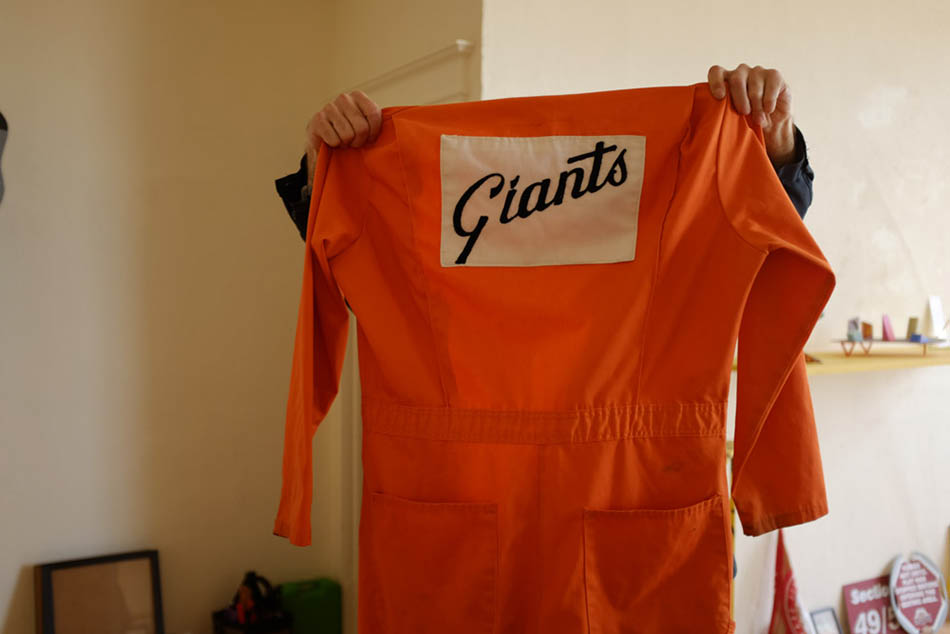 Join us on Saturday March 14th at 6pm for the closing reception of Tell It Goodbye: Steve Kerwin's Candlestick Catharsis. Steve is a third generation Candlestick Park employee and native born San Franciscan. His grandfather was the chief engineer at Candlestick, his father and mother both worked there and Steve worked Candlestick once, on the closing night – Paul McCartney's "Last Pick at the Stick." During his one shift he managed to steal a few signs, was paid in beer and a free ticket and got so drunk that he only remembers Paul's first song. Steve is heartbroken like the rest of us at the simple fact that times change. Lets help him heal. This one night only exhibition will be made entirely from Steve's personal collection of Candlestick memorabilia.
There will be gourmet Tacos (three kinds) Margarita's and a Cocktail or two for sale at 1981 prices.
---
October 18th 2014
Listening Exercise #1 will be held on Saturday October 18th at 4pm. The day will start with a yoga session led by Katie Colver of the band Cave Clove over Dr. John's late 60's Psyche Rock masterpiece Gris Gris. The yoga class will be appropriate for and open to all experience levels. The event will wind down with two albums inspired around, rumored to be influenced by and obviously in the same vein as Gris Gris. Their Satanic Majesties Request by the Rolling Stones and Thanks God For Mental Illness by The Brian Jonestown Massacre. Beer and wine will be served after the session, Sophie Leininger's Magic Carpet Yoga Mats will be available to demo, desire and purchase if interested and there is a decent chance for glitter and a disco ball.
---
June 13th 2014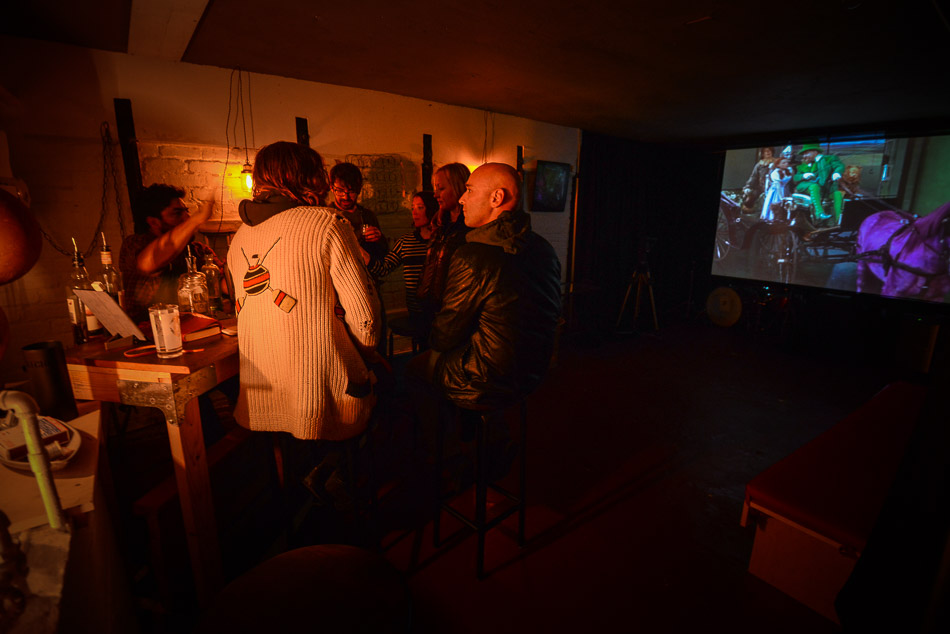 Click here for more information and instruction
---
December 23rd 2013
Candlestick Park Cake Detonation Celebration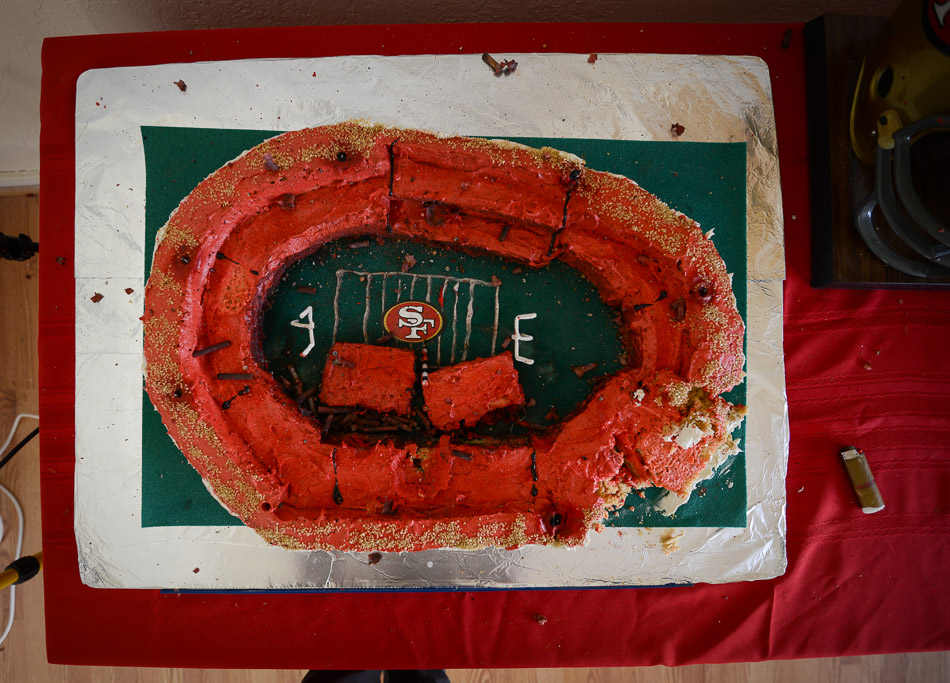 ---
November 23rd 2013
---
Feb 3rd 2013
---
October 26th – October 28th 2012
SF Open Studios: Hand-crafted Jewelry, Metal and 2D Arts!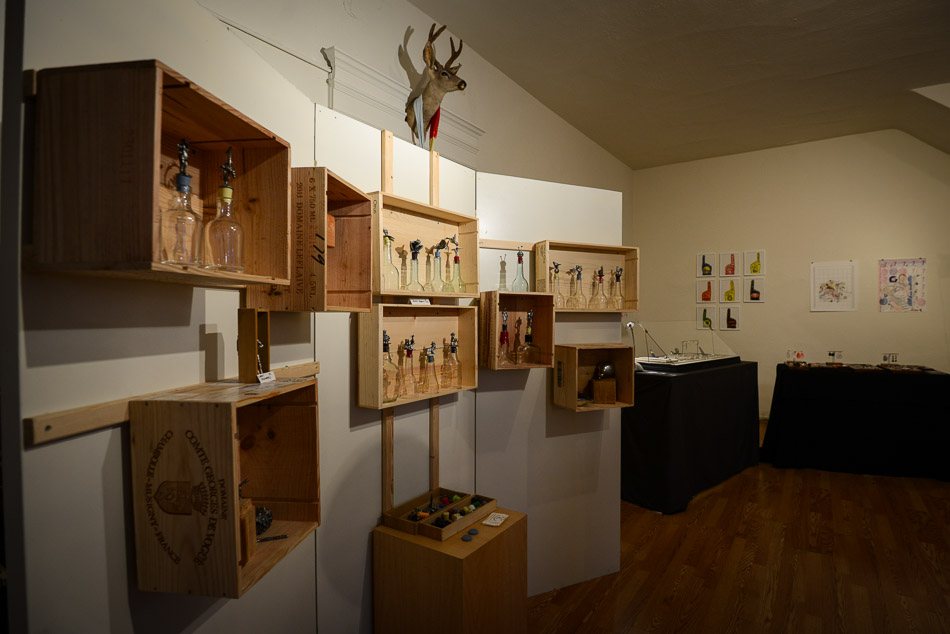 www.shanaastrachan.com, www.deborahboskin.com, www.raissabump.com, www.dmdmetalsmith.com, www.anighajanian.com, www.kellynedderman.com, www.rewarestyle.com, www.annieodorisio.com
---
Saturday, July 7th, 2012
PAINT, PLATE, PUNCH, PILE
a closing reception for FRESH PAINT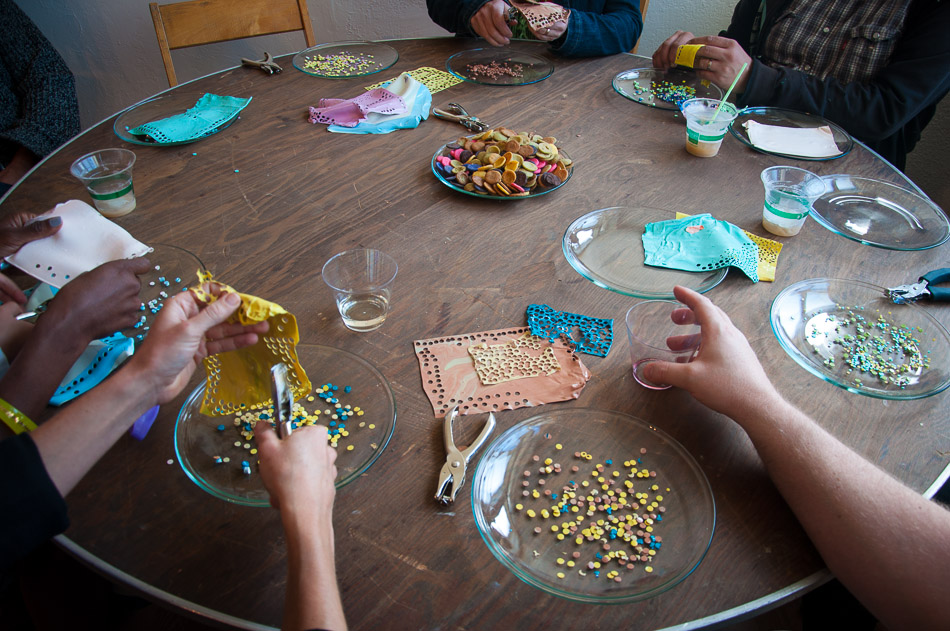 On May 16th, fresh sheets of paint were installed on the wall, from the ceiling, off the wall and draped over sawhorses. Over the course of nearly 2 months, these "fresh" paint sheets, stitched together only by their own sticky-ness, have evolved, melted, stretched, torn, expired.
We hope you can join us for what I like to consider the Ribbon Cutting, but really there is no ribbon. There is no grand opening either.  Instead, a special closing celebration in which guests can witness and participate in the dismantling and repurposing  of the lengthy stretches of paint sheets by hole punching  them into confetti, a celebratory material.
5pm Cocktail hour with Confetti Punch (for drinking)
6pm "Ribbon Cutting"
6:30-8pm Punching Paint (into confetti)
8pm Weigh your paint confetti pile for a chance to win!
---
Thursday, June 28, 2012
Southern Machine Exposure Project Event 18 of 20
Thursday, June 28, 2012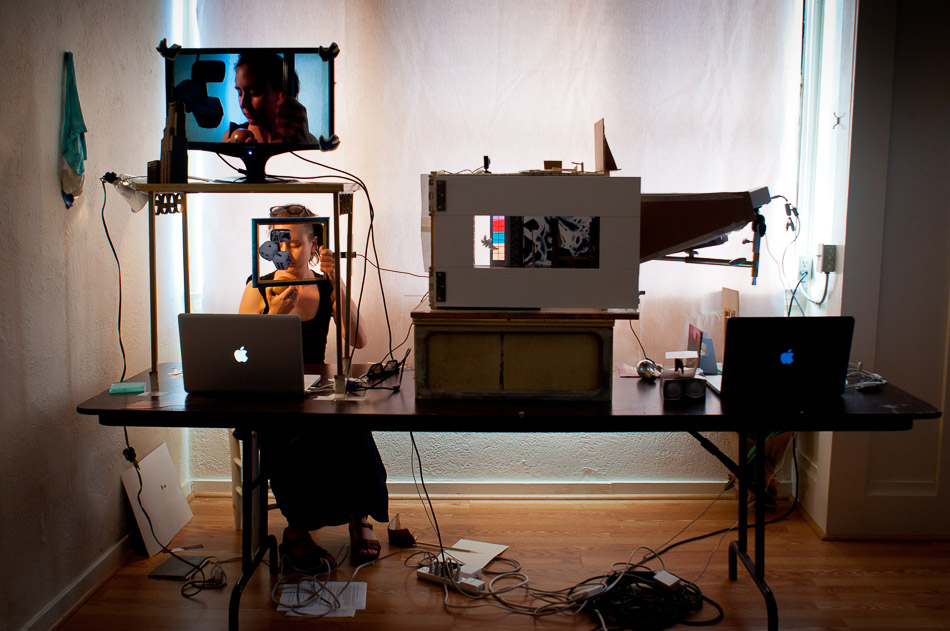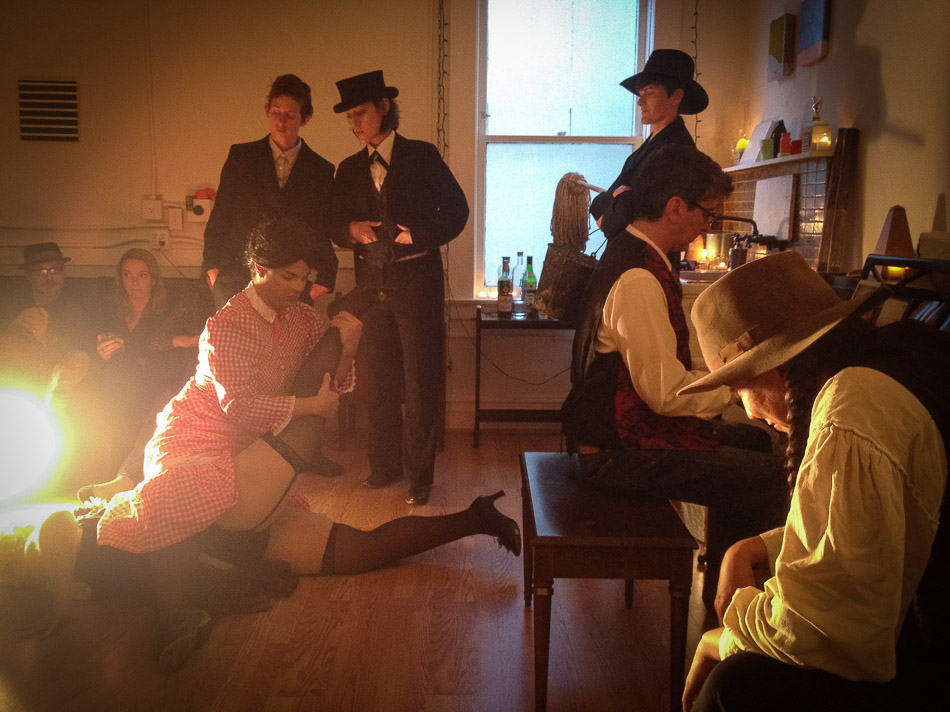 Emily Auble & Miriam Jones (LA)
Torreya Cummings (SF)
Artist and Project Information:
Torreya Cummings
Destry Rides Again, Again
Information: Destry Rides Again, Again takes the form of two tableaux vivants adapted from the 1939 Marlene Dietrich film "Destry Rides Again", a western in which it is unclear if we're in 1870, 1939, Texas, Hollywood, or a nightclub. Tableaux were a popular form of 19th century parlor entertainment, largely replaced by cinema. For this piece, we combine Dietrich's 1930's cabaret, a 1870's Texas saloon, and stage it in a 2012 parlor.
Instead of physically wrestling one another (as in the abstracted scene from the movie) the actors will be fighting gravity, time, and fatigue by holding their mid-brawl positions for as long as they can.
Emily Auble & Miriam Jones
What do you want?: Visions in H.D.
Information: Placing architecture, objects, and the silver screen in conversation with the poem "Tribute to the Angels" by poet H.D., Miriam and Emily invite you to contemplate the space between desire and reality, reality and image, and all the in betweens where we find ourselves questioning our perception.

Sign up to Attend Online at http://www.eventbrite.com/org/994232247
Southern Machine Exposure Project events all take place in private homes that serve as public venues. As a result of the intimate nature of these 20 unique spaces there is limited attendance for each event. If you'd like to attend, you must sign up ahead of time and register online at eventbrite.com/org/994232247. Registration for each project opens 7 days prior to the actual event. One new project opens at daily at noon beginning June 4, 2012. Times and audience capacity varies for each project. Pre-registration is REQUIRED and all events are FREE.
Southern Machine Exposure Project is a project developed by Southern Exposure (San Francisco) and Machine Project (Los Angeles), involving 20 combinations of artists and performers from LA and SF, presented off-site in 20 homes in the Bay Area over 20 consecutive days from June 11 – 30. More info about Southern Machine Exposure Project can be found at soex.org/southernmachine.html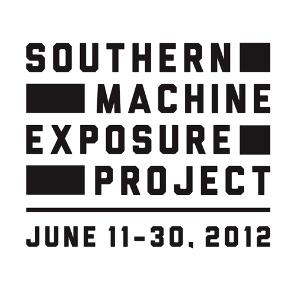 ---